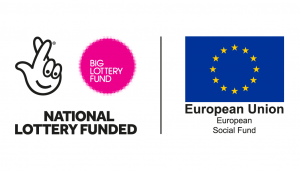 This project aims to support disadvantaged people in rural communities within Leicester and Leicestershire to move closer to or into employment. This project will have a particular focus on how moving towards employment can provide the ability and opportunity to take part in society, interact with the community, and access services
Our participants are people who live in Leicestershire, who are unemployed for various reasons and have barriers to working due to requiring improved education in Maths, English, ICT and Digital Employability.  This will enable them to apply for more varied roles and find a career that suits them.
Our part in the Lottery funded project is linked to training and development outcomes.  We offer in depth courses, with specialist tutors, to help people improve their Maths, English, ICT and Digital Employability skills, as well, helping them with personal development and confidence building through in class exercises and group work.  All learning is based in a classroom, with no more than eight learners, who all receive one to one support, peer support and group training.  Throughout the training we give advice and guidance and address educational barriers with them.
All BBO projects are aiming to move the most disadvantaged and disengaged people nearer to work.  With our courses we help address barriers to learning through education and training specific to the learner and their needs.  Our unique service caters directly to the learners needs, with initial advice and guidance, initial assessments to see what the people require to help them develop and specialist tutors to help and guide them through their individualised courses.  We have a 100% pass rate for all courses and so we feel that we are best suited in this area of expertise. We are aiming to help 40 people per month improve their job outcomes.
Our results will be published monthly on our website and we will be adding case studies and examples of good practice as the project continues.